INFORMATION ON RONALD E. WADE
OWNER/OPERATOR OF WEBSITE


About Ron Wade
Ronald E. (Ron) Wade has been active in politics since age 10--during the 1960 Nixon/Kennedy race. Wade was appointed by President Richard Nixon to his advisory council on ending the draft and Wade met with Nixon in the Oval Office as a college student and continued a friendship which would last a lifetime. Wade has been friends as well with Presidents Lyndon Johnson, Jimmy Carter, Gerald Ford, Ronald Reagan, George Bush, and is a close friend of President George W. Bush. Wade was appointed by President George H. W. Bush to his Presidential Inaugural Committee, was a Bush floor leader at the 1988 GOP Conventions and regional director for Bush's races in 1980, 1988 and 1992. Wade was a delegate to the 1988 GOP National Convention and all state conventions since 1972. He is President of the Bush Political Items Collectors, a national group of collectors of Bush memorabilia and hosts a political collector's show yearly.


Note:

The 2005 Inaugural was quite an occasion for me as I got to sit in the Presidential Reviewing Stand. I also got to ride in a Friends and Family bus right down the parade route in front of the President and got to see exactly what he did--what a thrill!! Ron



My wife Laura & Ron Wade with President George W Bush in the White House for 2006 Christmas Party hosted by President & Mrs. Bush. Click on Photo for full view.


CLICK HERE TO JOIN US IN OUR VISIT TO THE WHITE HOUSE






Ron Wade with Former President George Bush January 8, 2002


Want to see a true piece of history? Above is a handwritten letter from President Bush that Ron Wade received. Click on Photo of Letter to see Full-Sized Version of this Historic Letter

Ron Wade with the Presidents of the United States

Ron Wade has been a friend of seven Presidents of the United States, Lyndon B. Johnson, Richard Nixon, Gerald Ford, Jimmy Carter, Ronald Reagan, George Bush and George W. Bush. Here are a few more photos of Ron with the Presidents.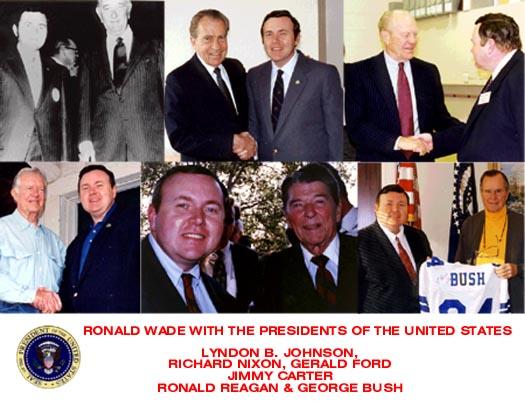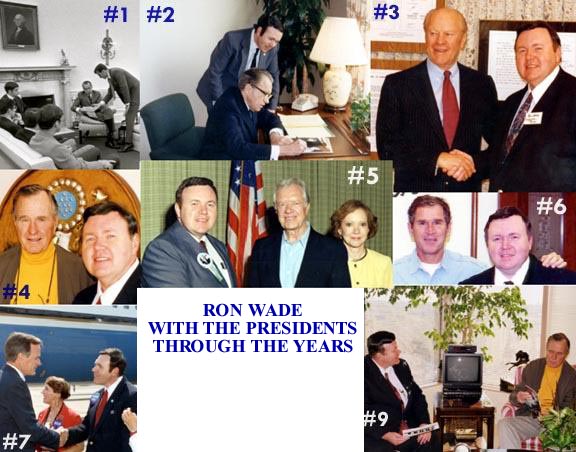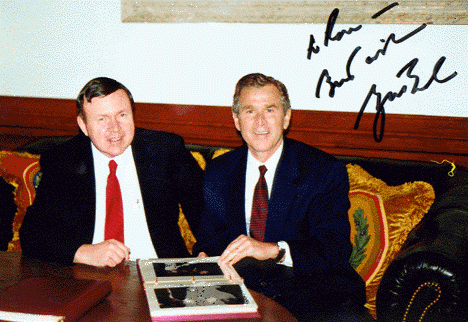 WITH PRESIDENT GEORGE W. BUSH